How To Recession-Proof Your Budget : The Saturday Weekend Review #302
Recession-Proof Your Life So You're Not Waiting On Anyone
I'm sure you've heard that Canada has entered into a 2020 recession due to the economic devastation of COVID-19.
It's was only five seconds ago when the Great Recession caused havoc back in 2007-2009 and it won't be the last.
At the time it took Canada a year after the USA recession to feel the economic downturn thanking our strong banking sector and fewer consumer-debt issues than the USA.
Also, commodity prices continued to rise which also helped to delay the Canadian recession.
Canada's economic recession was felt through trade relationships with the US where the US collapsed with-in.
As the Great Recession officially ended in Canada on July 23, 2009, and called by the Bank of Canada that should have been our wake up call.
We even slipped back into recession during the first two quarters of 2015 with job growth being so fragile in our country.
It took years for our investments to recover which is why it's important to understand what we are going through today.
They will recover again but it won't be in a month, two months it could be years and for those ready to retire they don't have that luxury of time.
Leading Into the 2020 Canadian Recession
Let's think back to the start of 2020 where we felt the hit from the railway blockade that brought the movement to a snail's pace or stalled completely.
Then we had the Ontario teachers' strike that went on into February and early March stressing businesses, family, and resources.
I've always had it in the back of my mind to recession-proof our life for an economic downturn and now is that time.
Understanding the Recession-Proof Basics
What is a recession?
Without getting too deep into what a recession is for Canadians it means that the economy has slowed down.
A recession is based on Gross Domestic Product and employment as the main measures of our economy in Canada.
We aren't progressing in an upward position but rather staying stagnate or dropping off completely.
If the economy is not making money than everything comes to a standstill.
Job loss is a large part of this and with so many Canadians at home collecting the CERB or EI things begin to happen.
The March jobs report showed more than a million jobs were lost in the month, while a preliminary estimate by Statistics Canada suggested the economy contracted by nine per cent in the same month.

Overall, 3.1 million Canadians either lost their jobs or were forced to work significantly less than usual, if at all, because of COVID-19, the numbers show. – Source
You only have to look at the price of gas which is lower than when I moved to Canada over 12 years ago.
Back then I thought it was damn cheap but now it's less and that's because the economy is not moving.
If we're all at home and not putting petrol in our vehicles then there will be excess supply.
Supply and demand run the economy and if that comes to a halt so does everything else.
There are no hard and fast rules for determining a recession, though a commonly used definition is two consecutive quarters of negative quarter-over-quarter economic growth. – Source
Recession-Proof Your Life
How do I recession-proof my budget?
I received an email from a reader after I had put out a call in my newsletter for readers to send me any finance-related questions.
With the state of the economy, he wanted to know how he could protect himself with effective recession-proof techniques.
His question is relevant and fresh since we are currently living through a recession in Canada.
When we are already faced with financial woes such as this recession ideally you'd want to be prepared ahead of time.
For many of you, this may not have been the case and you're worried about what tomorrow or the next day or month will look like.
You're not alone as many Canadians are scrambling for cash and struggling to get in touch with Revenue Canada.
I read that a couple was using 4 phones to get in touch with the government as they've received no money.
Whereas some people are finding deposits of money in their bank accounts that they didn't even apply for and struggling to give it back.
I asked on my Facebook page how this pandemic has changed the way they view their finances and 2 people out of almost 10,000 replied.
That kind of scared me because I thought, surely more people would want to lock-down funds because of the recession.
The words recession-proof may scare some of you but it's a reality that we must get ahead financially.
Recession-Proof By Being Mindful
Here's what I said on Facebook linking to, "I Can Buy It But Can I Afford It" a mindful read about where and why you are spending money.
Has Covid-19 changed the way you spend and save your money? Comment below.
Anne Says,

It certainly has changed my thinking. I just had a thought not 20 minutes ago.

I had two little buckets last month. Small and easy to fill up with soapy water. Small messes, no problem.

And then they broke. A dog sat on one, it disintegrated (big dog.) I broke the bottom out of the second one when

I was dumping dirt out of it…I banged it too hard. Broke it too. I was disappointed then I thought I still have 2 big buckets.

I'll put less in them. I have enough buckets.

Now, a month and a half ago I would have replaced the little buckets. Probably with something cute and decorative.

But now I have enough.
Can you see how Anne is being mindful of what she has instead of rushing out to buy something new?
This is the mindset Canadians need to adopt right now because money isn't coming in as fast as it used to, if at all.
Recession-Proof Jobs
Jennifer says,
Definitely, I'm realizing I don't need to go to the store every other day.

I've limited my shopping day to once a week. I'm spending more, but am I ?

We are learning to get by on what we have for that week.

So I do feel like I'm saving which is great because my business is on mandatory close and we are now living on one income.

With Jennifer, she's learning to utilize products that she has in our home as well.
This is what we should have been doing all along however it seems far easier to buy more.
The only way she will realize if she is spending more is by tracking her expenses and budgeting.
Recession-proof jobs just to name a few have been critical to our economy during this pandemic.
Medical professionals including therapists
Public utility services
Education
Food Service Workers
Police
Fire
Ambulance
Funeral homes
Accountants and financial services
Mental health professionals
Trades and transportation
If you're looking to get into a recession-proof career perhaps leaning more towards any of the above would be a smart idea.
Even then, nothing is guaranteed.
7 Ways To Recession-Proof Your Budget
My question didn't hit the hearts of many but I can assure that there are people who aren't sure what they will do.
You can prepare to recession-proof your life by taking steps to repair only the things you can control.
In the meantime, I'm going to share with you how we make sure our budget is built for a recession.
It's not indomitable however we put effort into making sure we were ready for an economic downward spiral.
Reduce Budget Category Expenses
Just recently we did that by getting rid of our cable package which will save us over $800 in 2020.
The idea doesn't sit well with some people because it's hard to give stuff up that you're used to.
I find that there are more excuses than anything when it comes to reducing expenses.
Either you do it or someone else will do it for you by way of creditors calling, consumer proposals, or even bankruptcy.
It's your choice to make the right decisions so you can enjoy tomorrow the right way.
Related: How to reduce and track your expenses
Ramp Up Emergency Savings
Preparing for a financial emergency shouldn't happen when it happens but rather BEFORE.
The only way to increase your emergency savings is to make sure you are saving money.
To do this you need to be mindful of your expenses and find alternate ways to get what you need to complete a task.
Having up to one year of emergency savings would keep you floating in the event of a recession for a bit of time.
Pay Down Debt
This is one of the most important parts of making sure you are recession-proof especially if you were to lose your job.
Since we are mortgage free and have zero debt all we need to focus on right now is paying for our everyday needs.
I can assure you that this experience has been a grateful feeling for us as we don't feel the punch so hard.
We earned it as we busted our asses to get here, but so can you.
Get your debt under control, track it, and find the best method that will work for you to rid of it.
Diversify Investments
One of the first things we did was get in contact with our financial advisor and spoke with him about our investments.
By that time they had already decreased as did, everyone's in Canada but we wanted to understand the risks to our portfolios.
We weren't panicking like he said some of his clients were and to remember that we have time since we are young.
Luckily, our money is diversified in different places such as an RRSP, TFSA, and other non-registered accounts including cash.
Increase Your Credit Score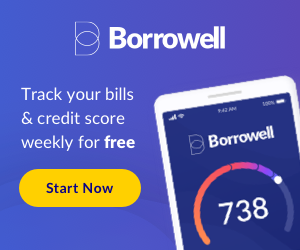 Your credit score is important especially if you need to take out a loan, mortgage, or opening a new credit card.
Many times even landlords want to see your credit score to make sure you pay your bills on time.
Task number one is to order your credit report from Trans Union Canada or a Free Borrowell Credit Score to see what is on it.
You'll want to confirm that no one is using your name to make obtain credit and wipe off what shouldn't be there.
Work on the problems that you see by contacting the right people so you can get rid of debt once and for all.
Network and Upgrading Skills
Not necessarily directly related to the budget but the overall umbrella of your financial security is your job and skills.
Always have a back-up plan when it comes to employment and the best way is to invest in yourself.
Taking courses that will increase your job skills or provide secondary skills for a new career is always a great idea.
Networking with the right people whether it be in person or even on social media platforms such as LinkedIn is vital.
You never know who will open the door for you when you need a job.
Discussion: How will you recession-proof your monthly budget?
Leave me your comments below.
Blog Posts You May Have Missed
Below is a recap of the blog posts I've published over the past two weeks.
If you haven't subscribed to the blog make sure to add your email to my list so you get my weekly blog posts and access to my Free Budget Resources Library.
Plus, now I also release a bi-weekly newsletter that comes straight to your email only for subscribers.
You'll find exclusive updates about the blog and CBB home life including photos and exclusive contests.
Hint: There may be a Mother's Day contest so subscribe!!
Seasonal Frugal Recipe
Now that we are in the Spring season I've had salads on the brain.
You'll find most of our meals during the Spring and Summer to be based around vegetables and legumes.
This year I'm creating a signature bean dish for this blog so I've been on the hunt for some inspiration.
Bean salad is a lovely side-dish for BBQ parties, pot-lucks, and everyday lunch or dinner meals.
Julie from Julieseatsandtreats.com has this colourful bean salad that I was quite captured by.
We eat with our eyes first so colour is always important to me as is texture, flavour, and quality of the products.
I like how she added a large variety of beans but that chili sauce mixed with the vinaigrette is the kicker.
frozen corn
kidney beans
red beans
white kidney beans
lima beans
black beans
sliced ripe olives
green bell pepper
onion
chili sauce
olive oil
red wine vinegar
garlic
dried oregano
pepper
Every salad needs to have some sort of flavour foundation and for me, it would be that little extra.
CBB Motivational Corner
Mother's Day 2020 is Sunday, May 10 and I wanted to get ahead of the day to share with you something I never take for granted.
I haven't seen my mum in just over 2 years and before that, it was 5 years as she lives in the UK with my dad.
Calling my parents is something that I do at least once a month to check-in and see how they are doing.
Although I can't be there with my mum I'm thankful for her guidance and motivating me to take chances in life.
Continue making memories whether your mum is near and far or departed this earth.
Your mum will always be with you even if you can't see her.
Gardening Season 2020
Deanna over at Homesteadandchill has this great article that I think you might enjoy reading if you're into gardening.
With the way the economy has been going, it's a great time to use garden pots and odd containers.
You can even grow a garden in a small space with a few simple tips that I have shared on this blog.
I plan to show you through the summer where we are growing our herbs and vegetables to give you an idea.
What Deanna shares with us is Common Seed Starting Mistakes not to make.
I enjoy organic gardening and grow our garden from seed each year so her tips are a valuable learning experience.
She goes into detail with photos for each of the below common mistakes for garden seed starting.
At a glance, here are the most common seed starting mistakes:
Starting seeds at the wrong time
Not reading seed packages
Using the wrong soil
Not providing warmth
Insufficient light
Watering too much (or too little)
Fertilizing incorrectly
Not thinning or potting up
Skipping the hardening off process
Home and Blog Update
Home Update
The past two weeks I've managed to clean and seal the front porch back to new again.
I do this once every couple of years or when it needs it because muck stains and sealing your porch protects it.
I've also just finished sealing our fence that I installed 2 summer's ago.
I'll blog about the process, products I used, benefits, and costs involved in an upcoming blog post if you're interested.
Like most of you we are at home every day as I'm not at work but working at home behind the scenes.
I am also homeschooling our son and we go out to play and take walks around the neighborhood as a family nightly.
Not a whole heck of a lot apart from renovations, work, homework, eating, walking, eating, cooking, and did I mention eating?
Have a great couple of weeks everyone.
Mr.CBB
Blog Update
Most of what's happening with the blog are behind the scenes right now.
On a great note, the blog has seen an increase in traffic for the entire month of April which I'm thrilled about.
Thank you for continuing to read this little-big blog and sharing it with your friends.
The not-so-good part is that I'm not earning as much revenue as everything else has tumbled so has that.
I need to be mindful of this since money earned is money re-invested in making this blog the best it can be.
Hiring a team and services behind the blog is costly but you get what you pay for right?
Keep on sharing and liking posts and you'll help celebrate CBB's ongoing contribution to Canadians.
Thanks, everyone,
P.S – Go sign up for my email subscription.
Reader Mailbag Series
I'd love to start a reader mailbag series where you the readers send me a question and I'll post it right here.
This will allow CBB readers to comment below to help solve your problem or give you some tips.
It can be anything from finance to gardening, relationships to parenting.
Keep your question short but with as much detail as needed to describe your problem.
If you have a photo you want me to share you can send that into my email canadianbudgetbinder@yahoo.ca
Perhaps you have a garden plant that needs help and wants to share a photo of the issue it's having.
Send it to me.
Mr.CBB
Saturday Search Term Giggles
These are keywords that readers typed into their search engine and landed on this blog.
I get thousands of these every single day and pick some of the best to feature right here.
Sample Letter for corruption and abuse and power- Wow, didn't expect that.
Why is biochar so expensive in Canada– Just in case you were wondering. Biochar is charcoal used as a soil amendment for both carbon sequestration and soil health benefits.
Shopping List For Older Men– That's different
The easiest way to make donuts – Go buy them, lol or you check out Nicola's recipe on CBB.
Pictures of Shoplifters in Canada– Hmm, not sure if you'll find that, here